This offer is only for members of my newsletter and is valid from March 10 to March 16, 2017. During this period, you can have my embroidery course, including 3.5 hours of training videos and 40 high quality embroidery designs for only $37 instead of $69.95. This is not a light version of the course, it is the full course at a special price. Click Order now to order immediately or keep reading to see what is included in the course in detail.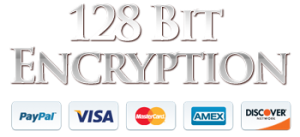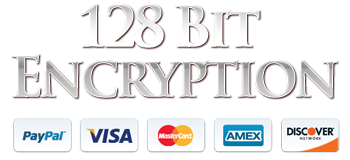 Yes Martin, I want to exploit this great offer of yours for almost 50% off including the free designs and HD training videos, and start with your course today! I want this course to guide me through in creating my own embroidery business from home. I want to start today, because this is the right time to enter this market before it becomes saturated. So, tell me what I will receive:

  You will receive "Embroidery Business from Home" by Martin Barnes,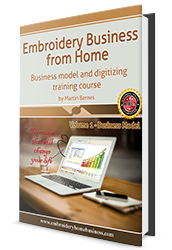 "Volume 1 – Business Model". In this book you will learn everything about modern embroidery, the size of the embroidery industry and how you can enter it and make it a profession. You will learn exactly what you need to invest in, and how much it will cost you. For example there are detailed chapters which will guide you to buy an embroidery machine and embroidery software. I present you detailed lists of the largest and most reliable manufacturers of embroidery machines and developers of embroidery software. Of course, I share all the industry secrets with you. Things that took me years to find out, things that no-one else is willing to share with you. Which company offers good products, and which only has good marketing departments with mediocre products. Which company is about to get bankrupt and which is stable and trustworthy, and most importantly price comparison. I share all industry secrets with you, in order for you to have a clear picture in your mind, before you decide which equipment to invest in.
Moreover, I present you with a detailed business plan, which you can use in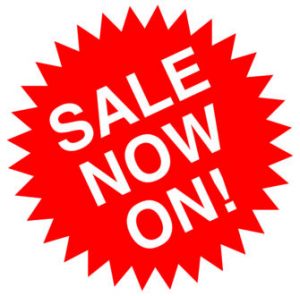 creating your embroidery business from home, no matter if you decide to start full or part-time. You don't need to worry about what steps to follow or what and how much you need to invest in. You don't need to trouble your mind on how to create your marketing plan, or hoe to find out additional income ideas. I have summed up my experience, and wrote all those things down for you, which you are fully allowed to use as a sample when creating your own customized business plan.
This book alone might have been the entire course, but no. I offer you so much more, as you will see right below.

  The second book of the course is called "Digitizing training", and as you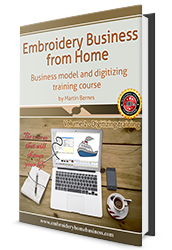 might understand it is designed to train you in digitizing embroidery designs, plus help you calculate cost of embroideries in detail, in order to set end user prices. You will first learn about basic digitizing like running and satin stitch, underlay, density and many other terms which are the basics in creating your first embroidery design and edit it whenever you need to. You will also learn about the 12 steps to follow in order to create an embroidery design. These 12 steps are the bible of a digitizer, and it is what made me a state-of-the-art digitizer.
After that I will teach you how to create your own letters and monograms for embroidery machines. As you will see in the first volume of the course, monogramming is one of the most profitable and easy to do parts of embroidery, so many embroiderers only do monogramming. This book teaches how to do letters along many other embroidery types, in order to be able to satisfy every customer's needs. I even present a way of creating packs of letter embroideries, for example hats for a baseball team, in only one design, which will be very easy to create and embroider compared to multiple designs! This is knowledge that even many professional embroiders don't have, simply because no-one taught them!
The knowledge of most digitizers ends here, in basic digitizing plus monogramming and editing. Not in this course though. I go even further and teach advanced embroidery techniques only top level digitizers know how to use. I present and analyse techniques that might reduce digitizing time even in half and raise design quality, plus explain how to use functions that will amaze the customers, making them happy to pay more for these fabulous embroideries! Color blending, embroidery with sequins and motifs are only some of the techniques presented in this course, that make a state-of-the-art digitizer, amaze the customers, and place businesses at the top.
I use more than 50 images, tables, charts and pictures in order to help you fully understand the training. I have created and included many screen captures of the various functions that I am teaching you, so you will have the chance to see how an embroidery software works before you even buy one! Plus I help you understand how the embroidery machine embroiders specific designs, by video simulating them in the training videos.
"Great ", you must wonder, "this is more than I need to start my embroidery business from home". Yes, it is more than you need, but I offer you even more!

 This course, like most courses on the market, would have been complete with the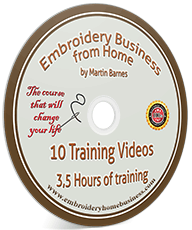 above two book volumes, but as I have mentioned, I want to help you even more with the digitizing training. So, apart from the images included in the books which will help you understand  the training better, I have also included 10 training videos for FREE. These make 3.5 hours of HD training material, in which you will watch me digitize 10 embroidery designs of increasing difficulty in my embroidery software. I have even included pop ups, arrows and other various messages, to make it even easier to understand all embroidery software functions that I use. You will have the chance to see how an embroidery design is created, from the easiest to more complicated ones. So, in each video I digitize, explain everything, and at the end I show you how the embroidery machine will embroider the specific designs with the use of video simulation. Furthermore, I give you the 10 designs that I have digitized, in order for you to embroider them in your embroidery machine! Those 10 designs, are included in the 40 designs pack that I give for FREE for a limited time.
BONUS

 "Does it have even more"? you must be wondering. Normally it wouldn't, since the 2 e-books and the training videos are the main course material.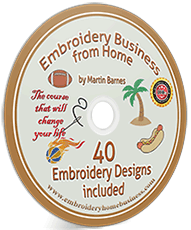 But I have decided to also give absolutely for FREE 40 embroidery designs of various categories, which you can see by clicking here. This is not a joke, I know embroidery designs are pretty expensive, actually those designs are valued at approximately $183, but I want to give them for free as a special offer, in order to help you start, to have your own portfolio of designs. Because if you buy this course, you are fully allowed to exhibit, embroider and sell those embroideries to your customers! To help you even more, I will give you those designs in 6 different file formats, thus 240 design files, in order for them to be compatible with most big brand embroidery machines in the market! Compatible machine brands are: Barudan, Brother, Tajima, Melco, Happy, Singer and all machines that can read the above mentioned machine brand formats. The above covers most of the embroidery machines on the market today! This is an offer you will not find anywhere else, and will last only 7 days from March 10 to March 16, 2017. If you add the original value of the designs ($183) that you will get for free, to the course normal price of $69.95, you will see that you are buying a $252.95 worth of product, for only $37!
So I give you the business model, plus ways and ideas to start making income from home, I offer practical training with books and HD videos, and I give you your first portfolio in order to get you started, plus I share all the secrets of the embroidery market industry. And you can have all this with almost 50% discount at $37. This fee includes all, two books, video training and 40 designs!
What are you waiting for? Wait, maybe you are thinking "What if I don't like the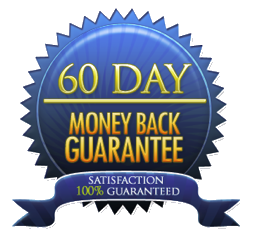 course?". I will tell you that: $37 is just a tiny amount for such knowledge, but even so, I offer you the 60-day Money-Back Guaranty, which fully covers you if you decide that this course is not suitable for you. I want all of my customers to be 100% satisfied. So, if you decide that this course is not for you, you can return it and be refunded in 60 days. I am sure though, that if you are focused, determined and follow my advice, this course will definitely change your life. The key though is to continue being focused in your goals, and value your customers. Having the above in mind, let me guide you through in creating your own successful business from home.
Now you have no excuse not to proceed with this purchase and not start your own embroidery business from home, as many of my trainees already did. This is the right time to enter this market before it becomes saturated. Do the first step NOW by clicking on the order button below.
  It doesn't matter where you are located or what currency you would like to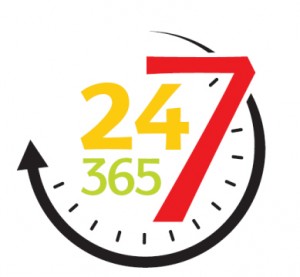 pay with, since our safe online payment system will do the conversion automatically for you. You can also buy 24/7/365 since our system is here to assist you whenever you like! In just a few minutes after you press the order button below, you will receive instructions, and you will be able to start downloading the course!! You don't need to wait for days for the post to arrive at your place, since this course will be delivered to you in electronic format, thus it will be available to you instantly once you pay! The download time depends on your internet line speed and it might take from 10 minutes up to more than an hour since the video files are more than 2 GB. Remember this is 3.5 hours of HD video training! Clickbank's SSL certificate, which is similar to a bank's security, ensures your credit card information is perfectly safe, since thousands of transactions are being done through Clickbank every day!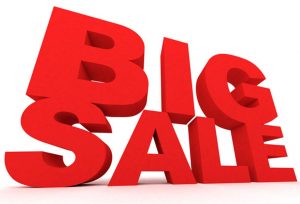 Make the first step like many others have done before you, and buy the course now for a small fee of $37. The price will go up again to $69.95 on March 16, 2017. Click on the order button below to go to our secure order processing page and exploit this great offer: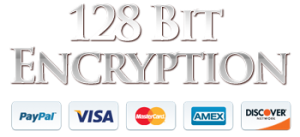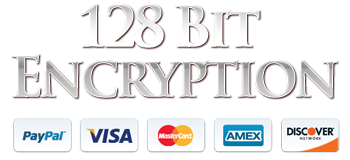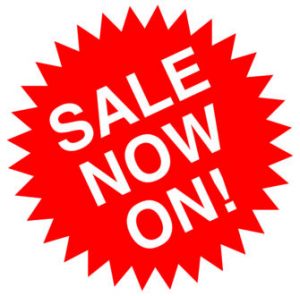 Please Note: This is a downloadable product. You will NOT receive any physical package shipped to you in your mail. The entire package will be immediately available for you to download and get started right away after ordering. You will receive access to bonuses right after you pay. This course is NOT available in stores, so you can only access it through this website.
The e-books of this course will be delivered to you in .pdf format and you will need a pdf reader to open them. Most likely you already have a pdf reader in your computer, but if not, I would suggest you use the free Adobe Acrobat Reader. You can download the latest version from Adobe's website for free by clicking here. The video files will be delivered to you in .mp4 format and you will need a video player capable of playing .mp4 in order to open them. mp4 files are the most popular form of video file worldwide so most liekly your computer will already have a video player capable of playing .mp4 files. If not I would suggest using the free VLC video player, which includes all latest codecs. You can download the latest version of VLC player by clicking here. The design files come in 6 different formats as I have mentioned above, and you will need the respective machine brand or an embroidery software capable of reading the specific file formats in order to open them. For more information please visit the FAQ page by clicking here or e-mail me at info[at]embroideryhomebusiness.com (replace [at] with @).  
Disclaimer: ClickBank is the retailer of products on this site. CLICKBANK® is a registered trademark of Click Sales, Inc., a Delaware corporation located at 917 S. Lusk Street, Suite 200, Boise Idaho, 83706, USA and used by permission. ClickBank's role as retailer does not constitute an endorsement, approval or review of these products or any claim, statement or opinion used in promotion of these products.