About EBH (Embroidery Business from Home) Affiliate Program
Affiliates of EmbroideryHomeBusiness.com,
Thank you for choosing to promote Embroidery business from Home (EBH) by Martin Barnes. You have made the right choice, since my course is a High Converting and High paying product, which will definitely bring you high income, since it does not have serious competition on the internet, plus it has a wide customer base, as the perfect business opportunity for earning a lot of money from home.  Keep reading to understand what I mean. But let's do the math first.
Income from promoting EBH
This course is truly unique. Let me explain myself in a few words. Besides the 2 e-book course, I give my customers for FREE 3.5 hours of HD video training plus 40 designs for a total of $69.95. Competition sells much less hours of video training, as an extra,  in high prices like $99 for 1-2 hours, plus no-one gives free designs. Embroidery designs like that cost approximately $5 for each, that is $200 for 40 if they buy each one separately, and probably about $50 if they buy the lot. I GIVE THEM THE WHOLE PACK FOR $69.95. I want you to believe me and if not, do a little research of your own on the internet to see how much embroidery designs cost. This course is a real bargain and business from home is the new American Dream. Not to mention I am giving inside information and industry secrets that my customers appreciate a lot… But let's see how much you will earn from selling my course:
Selling price is $69.95 and you get the maximum 75% commission! After Clickbank fees, that means you take approximately $47.48 net from EACH course sold. OK, I know it sounds insane, almost 50 bucks from only 1 sale of a course that practically has no competition on the internet or the competition sells 4 times my price, and has a huge customer base. So, what's the catch, you must be wondering. NONE. The customer base is so big, that there is enough for everyone out there and I just cannot exploit all those customers myself. Help me help you. I want much more sales than I already have, and I will happily give you 75% in order for you to multiply my sales, since I know that these are customers i would never had. It's that simple. I know I will make much more money with you, and I want you to be happy and continue promoting my course. Let's see your potential monthly and yearly income from selling my course:
You might argue it's not easy selling 15 courses per day, but it all depends on promotion. I have to say that those numbers are not net, because you need to subtract the money you are going to pay for promotion. Even so, the promotion cost will be significantly lower compared to the selling value, since this is a highly added value product which offers you a very high comission. 5 courses a day is a fully feasible target for your early promotion stages of this course, something that will bring you $7,122.00 a month or $86,651.00 a year. I have achieved much more than 10 or 15 courses a day with the appropriate advertising, mostly in Google and Facebook. I have to admit that Google advertising converts much better than Facebook though. So, since the customer base is huge, the more you advertise the more income you will have. Who doesn't want to make more money! Go to the banners page and choose your banner. In addition, below you will find keywords and other useful information which will help you in the promotion of EBH.

EBH strong points
As I have already mentioned, this product is unbeatable on the internet. Here are its strong points from an objective point of view:
Complete course at a low price

Very practical, not just theoretical. Customers really appreciate that.

Includes both business model and practical training

The practical training is suitable for both beginners and experienced embroiderers, since it starts from scratch and goes up to really advanced techniques

Includes 3.5 hours of video training for free, while competitors sell less hours (1-2) of video training for approximately $99 as an extra, and do not include them in their courses

Includes 40 Embroidery designs for Free, while no competitor's product offer embroidery designs. This is a very important advantage. Those 40 designs cost about $5 each if they are bought separately, or about $50 if bought as a lot. Customers really like having a portfolio when starting with their new business

The price of $69.95 is REALLY competitive for that kind of course and for what it offers. Normal price would have been $200-$250 or even more

The customer base is huge, so there is enough income for everyone. Anyone can start this type of business from home with a very low initial investment. My course guides them through from starting to fully working their business. So, everyone interested in starting a business from home is a potential customer of my course. Moreover, people that want to start an embroidery business or are already embroiderers or digitizers, are also potential customers.

Business from home is very popular nowadays

I have a very organised, high converting Website, which will make sure most of the traffic you send me converts into sales and profit. I am constantly testing new things that raise convertibility even higher.

I offer free stuff to my website, which makes a viewer that did not convert to come back and buy afterwards. You will still get your commission, since customers come back after a maximum period of 7 days, and you get your commission for 90 days after your referral!
How to start promoting EBH
Sign Up with Clickbank
If you don't have a Clickbank ID, sign up here!
It takes about 1 minute and it's FREE.
Once you have a clickbank ID, send your traffic to:
Hoplink: http://YOURID.martbarnes.hop.clickbank.net
Replace "YOURID" in the link above with YOUR ClickBank username and get 75% on every sale you make!
If you already have a clickbank account click on the image below!

Product Images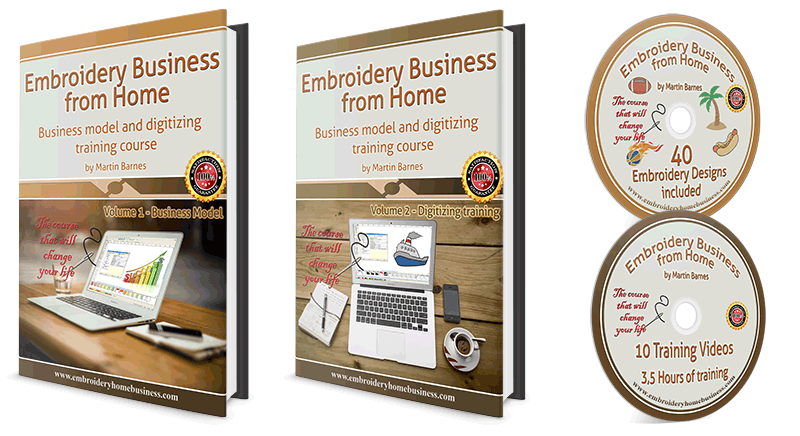 You can find various images of the course in various sizes in the product images page by clicking here.
Product Banners 

You can find banners in various sizes in the affiliate banner page by clicking here.
Keywords
Below I give you a wide selection of keywords that can be used to advertise this course. You can choose and target more than one if you want to. Remember, the more you advertise the more money you will make:
Embroidery business

Embroidery business from home

Business from home

Make money from home

Home business

Best home business

Work from home

Home embroidery

Embroidery Designs

Free Embroidery designs

Embroidery Patterns

Free Embroidery patterns

Embroidery sewing machine

Sewing embroidery machine

Embroidering

Machine Embroidery

Embroidery digitizing

Embroidery punching

Starting a business

Start a business

Embroidery

Embroidery designs

Monogramming

Monogramming machine

Monogramming business

Business ideas

Small business ideas

Online business ideas

Home based business ideas

Online business

Starting a business

Home based business

Home business

Make money from home

Work from home

Working from home

Work at home

How to make money

Making money

Make money online

How to make money online

Making money online

Make money from home

How to make money from home

Ways to make money from home

Making money from home

Ways to make money

Earn money from home

Ways to make money online

How to make extra money

Best business from home

Video
I have created an advertising video to promote my course. Please feel free to use it for promotion, since as you know videos always have better results than text. You can find the video on youtube by clicking here, or watch below.
You can use the video link to share it:
"https://youtu.be/m3IS7jKjIt4"
Or Embed it in your website using the following code as is:
<iframe width="560″ height="315″ src="https://www.youtube.com/embed/m3IS7jKjIt4″ frameborder="0″ allowfullscreen></iframe>
Contact
For any problem, suggestion, help or whatever else you might need from me, you can reach me at info [at] embroideryhomebusiness [dot] com. I will try to reply to you within 24 hours.
Let's make money together!
I hope you understand now that this is a top selling, high converting product, with no real competition and a huge customer base. You can make a lot of money from this course if you start promoting it in a clever and consistent way. If you do it correctly, you should see the results very soon. From my experience, the more I advertised it, the more net income I had. As I told you the customer base is huge, so there is no limit in the money you can get from it!
From my side I assure you that I will try to provide sufficient and quality promotional material for you, in order to achieve our goals of increasing sales. I will update this page from time to time, so be sure to check regularly for new promotion material.

Other EBH Affiliate pages:
---
Earnings Disclaimer: any estimates of how much affiliates can make by promoting Embroidery Business from Home by Martin Barnes, is just that - an estimate and not a guarantee-
Anti-Spam Policy: We will not accept affiliates that promote this product through illegal or unethical techniques. In such case, ClickBank may terminate your affiliate account and you will not be allowed to promote this product as well.